"Jeff & Kristen - The monument looks great! Thanks for all of your guidance & patience working with Caryn & I."

"It looks great. Thank you"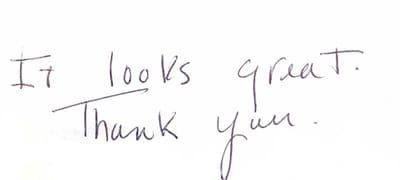 "Jeffrey Boucher & Kristen Smith: I want to thank you for your assistance and I would like to tell you that I am more than pleased at the way the engraving on our headstone turned out. Excellent work! It is Beautiful!"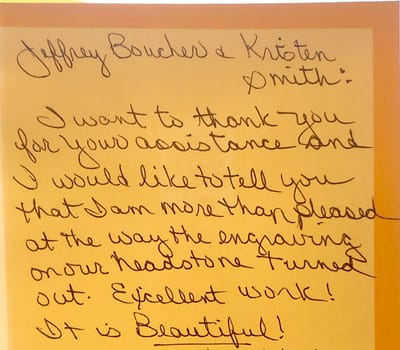 "The engraving looks beautiful - Thank you"

"Thank you so much, it looks beautiful. It is such a beautiful monument."

"Thank you. I saw the stone with the added date. You did a very good job."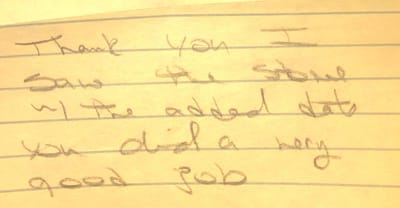 "Thank you! We're happy with my mother's headstone."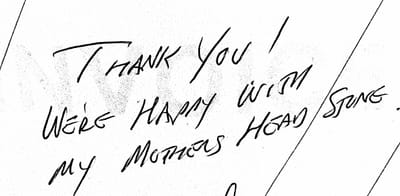 "Jeff, Nice job. Looks good. Thanks""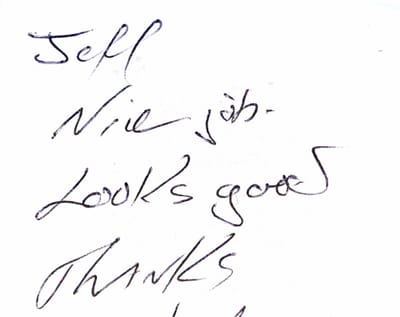 "Thank you again for your services. Mom's are important."

"Thank you for all your help in preparing the monument. Our entire family loves it."

"Hi Jeff, We (3 children and me) were all together this past week and went to see Paul's monument. (Susan was happy her date wasn't on it!) We are so pleased it is beautiful. You do great work. Many thanks"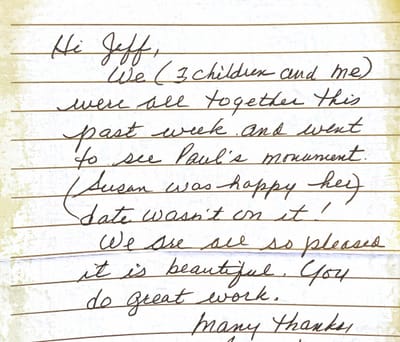 7/18/17 "Jeff, I am very pleased with the monument! The stone cutter did a beautiful job creating Our Lady. You were so helpful & supportive to me throughout this process! Thank you & God Bless."
"Thank you for an Excellent job. It looks brand new! I will recommend you to anyone."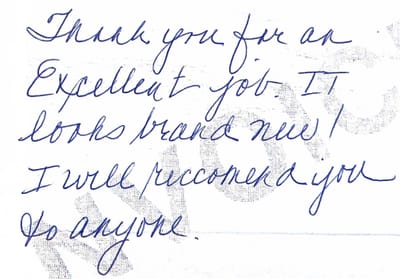 "Thanks so much for doing this work for "our" brother Bill!"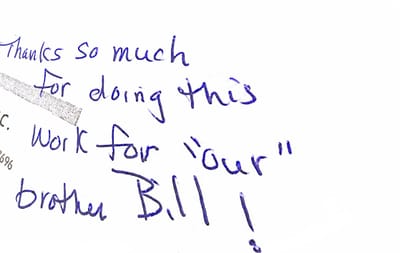 "Thank you so much for your prompt service. It looks wonderful."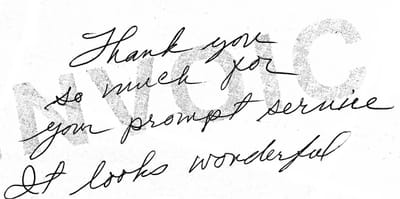 "Kristen & Jeff, Thank you so much for your exceptional service in creating a very nice monument for my son James."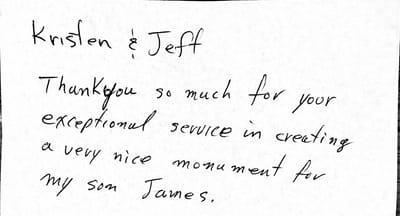 "Thank you very much! Excellent job!!!"

"Perfect! I Love them."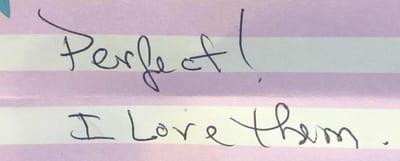 "Thank you - The stone does look new."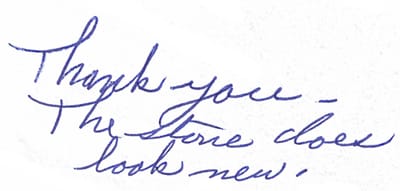 6.4.19 "Dear Jeff and Kristen, The monument is beautiful. It's perfect. I couldn't be happier about the way it turned out. I would be happy to recommend you should the need arise. Thank you!"
"Dear Jeff, It has been a pleasure to have you guide us through the design of Mom's tombstone! I've planted lots of flowers & 4 tomatoes on the site. I am hoping for a weeping cherry too. The stone is very attractive and all the family is quite pleased. Thank you so much for your gentle pressure approach to handling all this. We will definitely recommend your services to others. (Hope we don't need them too quickly though.)"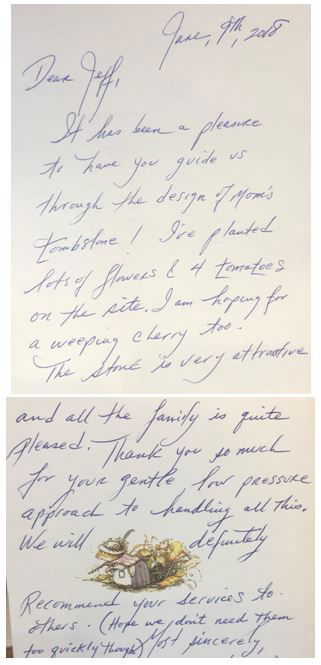 "Kristen and Jeff, Thank you so much for all of your help through this process. You have been incredibly helpful, professional and polite. I will recommend you you whenever the opportunity arises."

"Dear Jeff, Enclosed is my check for the balance for Ed's monument. I want to thank you for all your help. (Kristen too) You made a very difficult situation easier to complete. It was a real pleasure meeting you & Kristen. Take care & be well."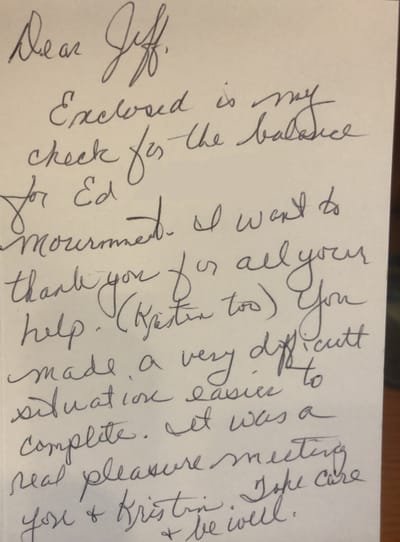 "Nice work! Thank you so much!"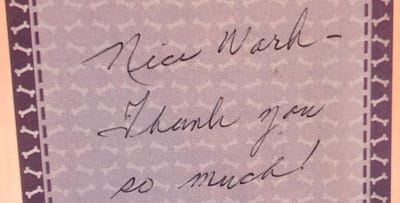 "Dear Jeff, Thank you for doing this work so quickly. I so appreciate your kindness & consideration."

"Jeff & Kristen, I just wanted to thank you both so much for your help over the past year - selecting a stone, design and creating my Dad's beautiful memorial stone. I appreciate your kind-hearted assistance."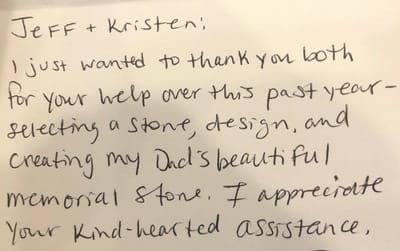 "Jeff, Thank you very much for making sure the VA marker was engraved, delivered and installed properly. A job well done as you promised."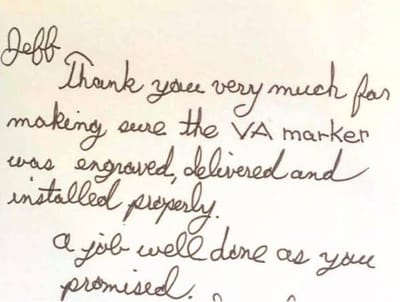 "Dear Mr. Boucher and Manchester Memorial, Thank you for your valuable contribution to my Eagle Scout Service Project. With your help, I was able to raise $7,000 towards the construction of a monument displaying the Ten Commandments and the Beatitudes. Because of your generosity, I am now officially an Eagle Scout. I encourage you to visit Holy Rosary Church in Hooksett, NH so you can view this beautiful monument."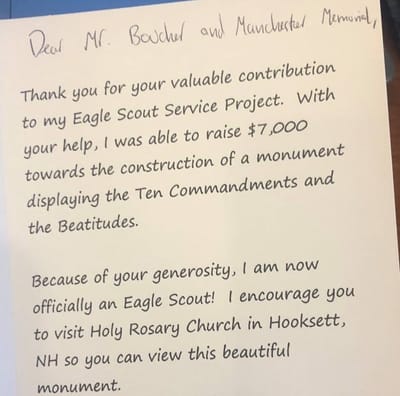 "Jeff, Everyone, including myself, are in awe of your work. I can't thank you enough."

"Hello Mr. Boucher, I am so thankful that God did lead me to you. It is never too late to learn. I am so grateful that you are a patient man. I really want to thank you for the beautiful bench and all the detail involved. You have made it exceed my expectations. I am hoping the Bible verse will help bring souls to Jesus as Savior. My wife and relatives that have seen the bench are so wowed at the beautiful job that you at Manchester Memorial have done. Thank you so much."
"Hi Jeff, thank you for great service and a job well done."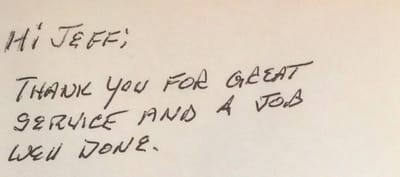 "Jeffrey.... Thank you very much for an excellent cleaning job on my grandparent's monument. I am very pleased. At 75, I'll leave the next cleaning to Reese and my niece, Jan!! We are going to Italy on Aug.10th to revisit my grandfather's great nieces and nephews there. I will be bringing photos of the spanking clean monument with me. Thanks Again, Mike"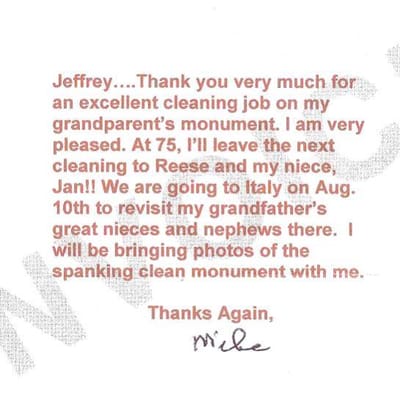 "Dear Mr. Boucher, I want to thank you. The monument for my husband is beautiful. It turned out exactly as I had envisioned it and you made a difficult process as easy as possible. Julie"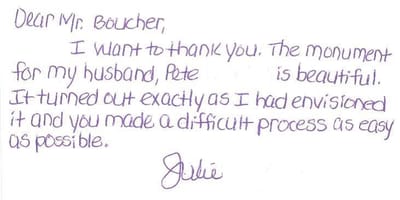 "To whom it may concern, I spoke with a gentleman on 3/19/15 at about 4:30pm. I didn't catch his name unfortunately. I just wanted to express my gratitude for being willing to go above and beyond the call of duty. He was willing to research where my family burial plot was and offered to go Mt. Calvary in Somersworth if I was unable to find a company closer. Kind hearts do not go unnoticed. I hope this gets to him, it's just a little token for 10 minutes of kindness in a difficult time. Sincerely, Appreciative Girl From Ohio"