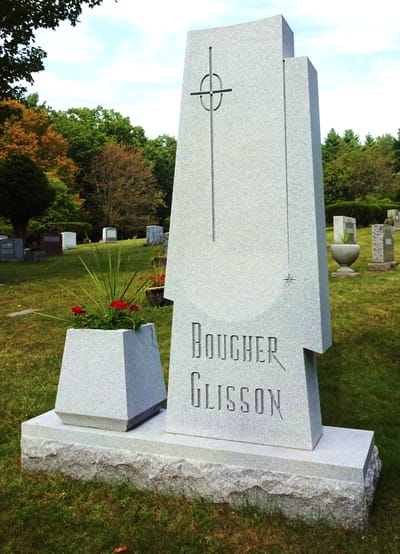 The beauty, durability and versatility of bronze, marble, slate and granite suit them well for a wide variety of uses: cemetery and civic memorials, mausoleums and shrines to be sure. But these materials are ideal for signs, benches, birdbaths, sundials, planters and garden memorials. Please visit the
various galleries
in our portfolio to see examples of our artistry and craftsmanship.
Traditional Upright, Slant and Flat Memorials
Any of the well-known familiar shapes and sizes can be customized to fit your particular needs. Many cemeteries have regulations dictating dimensions depending on lot size and location. Whatever your restrictions are, a beautiful work of art can be created to celebrate your loved one's life. All of our work is perpetually warrantied for your peace of mind.
Mausoleums
These very special kinds of monuments are not for everyone. Their stately forms of flawless granite create an architectural work of art. Families can choose a simple, single above ground crypt, or they can choose to have a fully enclosed chapel mausoleum built according to any desired design. Altars, fountains, murals, windows, and stained glass can all be included. Manchester Memorial Company has been the area's only designer and installer of private mausoleums for the past half century.
Feature Memorials
Feature or estate monuments usually rest on larger, family lots and are available with the same range of possibilities as other types of monuments. Their larger size allows for more creativity and artistic flair limited only by your imagination. Our portfolio shows some of these types of memorials erected by our family over the last 80 years.
Cremation, Garden and Bench
Memorials
We recognize that times are changing. More and more people are seeking different and unique ways to memorialize their loved ones. Cremation monuments can be as grand as a traditional memorial or be a simple sundial. Statues, birdbaths and benches can be personalized to tell the story of a life and be placed in a cemetery or garden setting. We have a large variety of these types of memorials and relish the opportunity to take on any design challenge.
Civic Memorials and Signs
From commemorating heroic deeds of the past to conveying a sense of dependability and strength in the present, stone is the natural choice. Often combined with other artistic materials, such as bronze and glass, no other material will stand the test of time.
Bronze Markers and Dedication Plaques
Some cemeteries have sections dedicated to bronze markers. While the amount of customization is more limited, life stories can still be told in beautiful ways. This same bronze, often used for cemetery markers has been used for over a century as the material of choice for plaques dedicated to the memory of those who have gone above and beyond the call of duty. Available in countless sizes and shapes with customized symbolism, cast bronze will suit the needs of all looking for a long lasting and artistic medium.
Pet Markers
If your loved one was a pet, Manchester Memorial Company has the experience to create a quality monument to celebrate its life. While we work closely with the local pet cemeteries, we can also design and install a pet memorial for your yard or private garden area. Go ahead and put our staff to the test!